Paris (April 28, 2023) — In their March 2023 product release, Sciforma announced a new workspace for the product's standard configuration: "Resource Fulfillment." This workspace provides project managers and resource managers the opportunity to manage assignments from an organizational vantage point.
"For a small organization where the PM could also be the RM, we wanted to give them the opportunity to manage their assignments from another point of view," said Sciforma Lead Developer, Vincent Amadieu. "Now, with the Organization view, the RM has direct, clear vision into a given resource's project assignments, and can fulfill or replace them with a click of a button."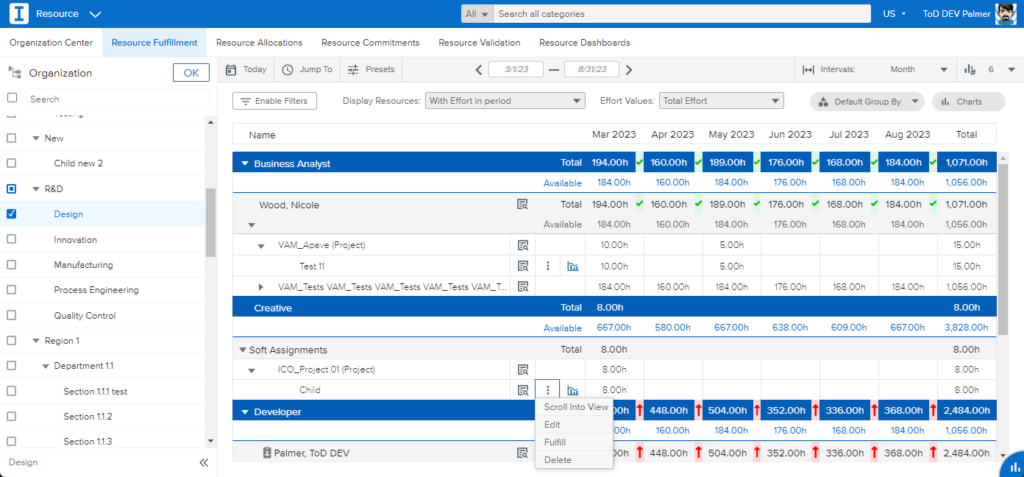 The creation of this Resource Fulfillment tab expands upon Sciforma's leading resource management capabilities. Prior to this release, project and resource managers could only manage resources on a Project level, meaning they had to manually select each assignment for a given resource to analyze capacity. The new Organization view displays all Working Projects, allowing the PM/RM to fulfill soft or generic assignments or replace existing hard assignments more quickly and efficiently than ever before.
Sciforma customers span a wide range: from SMEs to divisions of some of the world's largest and most dynamic companies. To request a demo or information, contact Sciforma.
About Sciforma
Sciforma is one of the leading providers of Portfolio & Project Management (PPM) software, delivering solutions to more than a quarter million users worldwide for over 30 years. Boasting PPM, SPM, and CWM capabilities, Sciforma's solution helps teams plan and deliver on strategic initiatives by making data-driven decisions about their project portfolios, resources, and strategic goals—all in one collaborative, customizable platform. The company stands out from its competitors by providing the optimal balance of usability and robust functionality, as well as project team and executive-level portfolio management for solving challenges with strategic communication, planning, tracking, execution, and more. In recent years, Sciforma merged with One2Team (2021) and KeyedIn (2023), thereby reinforcing its Project Portfolio Management and Strategic Portfolio Management (SPM) capabilities. For more information, visit: www.sciforma.com. Follow us on LinkedIn and on Twitter.
Sciforma Contact:
Valerie Zeller |  vzeller@sciforma.com